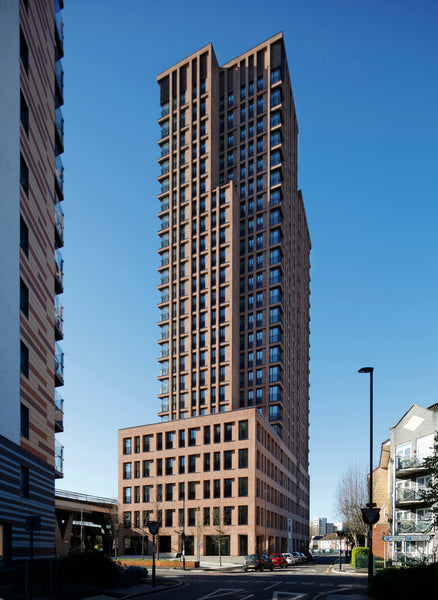 Tour of Kindred House, Croydon by Pitman Tozer
11am-12pm on Saturday 2nd September.
Meet on the corner of Scarbrook Road and Wandle Road.
On the edge of Croydon's Old Town on a former Council surface car park, adjacent to the A232 flyover, Pitman Tozer Architects have designed a tall, mixed use building that stitches back into the local street pattern.  The southern side of the building follows the curve of the flyover.
The building comprises 128 homes (47% affordable) and 10,000sqft of offices, with ground floor flexible retail space, with a shared, mixed tenure entrance and circulation.

The cluster of taller elements around a central core provides a high number of flats per floor and a composition of slim elements to create a complex silhouette on the Croydon skyline, in a generally low rise neighbourhood. The five storey plinth provides start up office space and flexible commercial space at ground floor as well as forming the new public space onto Wandle Road and includes community artwork, seating and planting.

The building envelope is characterised by a single mottled pink brick, with deep brick reveals which form an integral part of the solar control strategy. Each apartment enjoys a wintergarden as an environmental buffer and enclosed, semi external space and all residents have access to the rooftop shared roof terrace.

Luke Tozer will provide a tour of the building,  explain the evolution of the design and its realisation in the construction.
Photograph: Ben Luxmoore