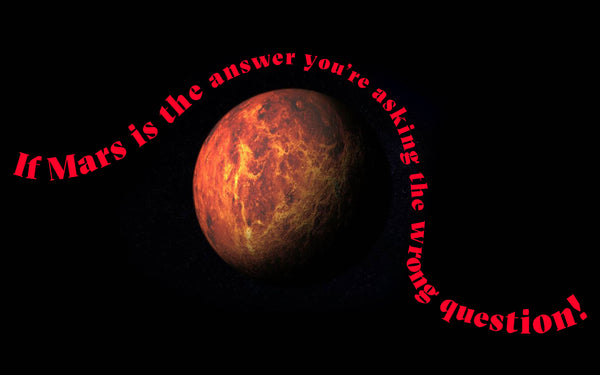 Lost in Space
Helium sucked from the moon. Minerals dug from asteroids. Mining Mars. Norman Foster has proposed terraforming the red planet with drones and 3-D-printed lunar bases. Bjarke Igles wants a "Mars simulation city" in the deserts of Dubai.
This is not visionary thinking — it is escapism, seductive only to those whose weak imaginations can see no alternative to infinite growth. Mocked as "unrealistic", even the most wildly ambitious Green New Deal feels increasingly practical set against the snake oil peddled by a new breed of space-colonising fantasist. If Mars is the answer, you're asking the wrong question.
The Panel
Tosin Thompson

 

is a writer and actor. She has written for New Humanist, the Guardian and the New Statesman.
Rory Hyde

 

is curator of Contemporary Architecture and Urbanism at the V&A.
Xavier De Kestelier

 

is Principal and Head of Design Technology and Innovation at HASSELL. He previously led a number of Foster + Partners projects related to space exploration.
Imani Jacqueline Brown

 

is an artist/activist, researcher, and writer from New Orleans.
Steve Austen-Brown

 

is Creative Director of Avantgarde UK, an international creative agency who "turn consumers into fans". He is working on "Message to Space" – the UK Pavilion at the 2020 Expo in Dubai.
Venue
St John's Hoxton
Pitfield Street
Hoxton
London N1 6NP


Time
7pm
Tickets
Turncoats tickets are available at different prices depending on income. All tickets include vodka, beer and chaos.

Waged – £10. Got a job? This is the ticket for you.
Solidarity – £15. Have you done part three? Earn more than the median income (£29,400)? Occasionally shop at Waitrose? Good for you. This is the ticket for you.
Student – £6. Fear not, you'll more than make it back in the value of the free beer and vodka.
Volunteer – FREE. Want to volunteer on the night instead of getting a ticket? Drop hello@turncoats.uk a line and become a Turncoat.