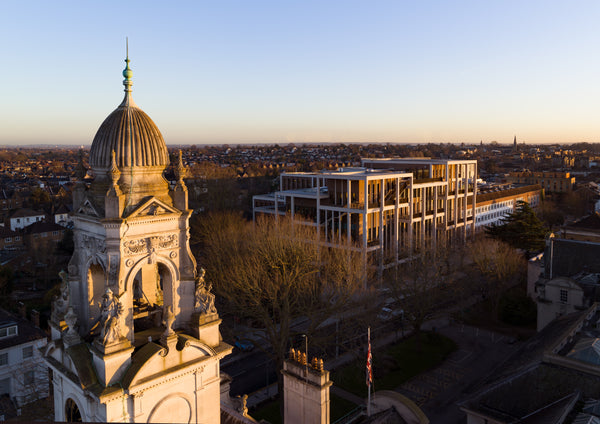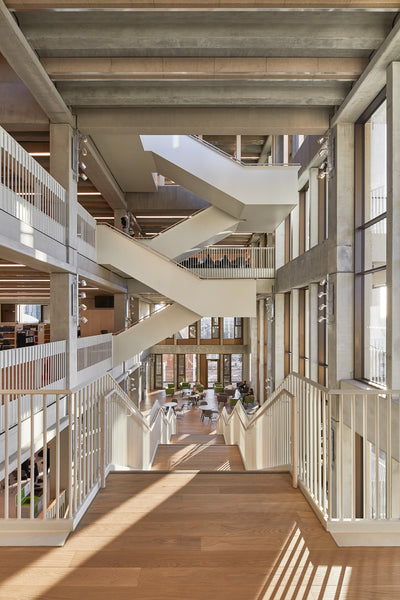 Building Tour: Town House Kingston by Grafton Architects
Take a tour with Kingston University exploring the new Town House building by RIBA Gold Medal winners Grafton Architects. 
Join the university's director of estates, Sean Woulfe and the project's technical co-ordinator, Gary Young for a guided journey through the Dublin-based practice's first UK building. Grafton is this year's recipient of the RIBA Royal Gold Medal and last year was awarded the RIAI James Gandon Medal for Lifetime Achievement in Architecture.
In 2016, Grafton won the inaugural RIBA International Prize for the New Campus for UTEC University of Engineering and Technology and were nominated for the RIBA Stirling Prize in 2013 for the University of Limerick Medical School, Student Residences, Piazza and Pergola.
This new landmark teaching, learning and civic building replaces an outdated, temporary building with one of extremely high-quality design that offers a vibrant new face to the University and a welcoming gateway to Kingston upon Thames.
Town House will transform the learning experience and bring together the University and the local community. Facilities will include a library, a studio theatre, dance studios a covered courtyard, cafes and a welcoming and attractive new landscaping scheme across the University's entire Penrhyn Road frontage.
Grafton Architects' commitment to being environmentally conscious and sustainable is at the heart of the development – they designed this flexible future-proofed building for Kingston University to accommodate inevitably evolving needs in efficient, effective, environmentally-friendly ways over the building's lifetime.
STARTS:
11:00am, Saturday, 7 March 2020
UNTIL:

12:30pm, Saturday, 7 March 2020
VENUE

Penrhyn Rd, Kingston upon Thames KT1 2EE
TOUR GUIDES:
Sean Woulfe 
A registered architect, Sean was in professional practice from 1989 – 2008 when he joined the Higher Education Sector and Kingston University where he is currently Director of Estates. He leads all aspects of estate, property and department management and is responsible for the Estate Vision and the associated Implementation Plan while ensuring that the estate is legislatively compliant and continues to serve the changing needs of the University efficiently and effectively.
Sean established and is responsible for maintaining frameworks of consultants in accordance with public sector procurement regulations and led the RIBA design competition appointment of the award-winning Grafton Architects design team for Kingston University's new £60m Town House. With a lifelong passion for good design, Sean is a trustee of the Higher Education Design Quality Forum (HEDQF), of which Kingston University is a founder member and is on the Executie Board of the Association of University Directors of Estates (AUDE).
Gary Young
Gary Young has worked for Kingston University's estates team since April 2014 and has held the position of Client Representative/Technical Co-ordinator for Town House since the project's commencement. Gary's role has been pivotal in leading and directing the project to align with Grafton Architects' and Kingston University's vision.  
As a registered architect with 20 years' experience, Gary brings to the role his specialist knowledge and expertise along with his dedication to high standards. Gary has been involved in all phases of strategic development from inception to handover and has overseen the  construction process to ensure it met the required environmental, structural, legislative and aesthetic standards.