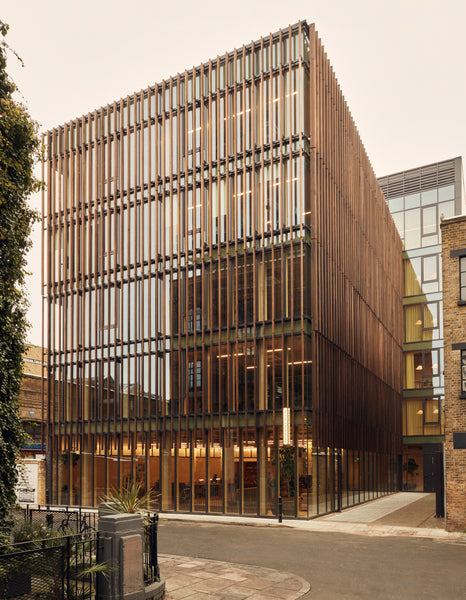 Building Tour: The Black & White Building by Waugh Thistleton, 11.00am 22nd April 2023
The simplicity of this fully engineered timber office building belies its groundbreaking innovation. Setting a powerful sustainable agenda with only 410 kgCO2e/m2 embodied carbon (A1-A5), material use has been optimised. Each component is designed to be as efficient as possible, resulting in an honest design without excess.

Designed to offer flexible, shared workspace to companies this modest yet significant building with a powerful sustainable agenda is the tallest engineered timber office building in central London.
A hybrid structure comprising a beech LVL frame with CLT slabs and core has been designed to create vast open workspaces. With no structural internal partition walls and the MEP carefully co-ordinated to minimise visual intrusion, the layout can be easily adapted as future demands change.
The design is expressed through the constituent parts, avoiding excess or unnecessary architectural flourishes and the beauty of the completed building stems from the inherent qualities of each layer and each material without decoration.
The state of the art timber structure is framed by the glazed curtain wall, with solar shading provided by a second skin of vertical timber louvres. A parametric model simulating the movement and impact of sun against the façade determines the layout and form of the louvres, demonstrating how timber, combined with cutting edge digital analysis of environmental performance, can result in a truly 21st century building.
Where: 74 Rivington St, London EC2A 3AY
When: 11.00am 22nd April 2023