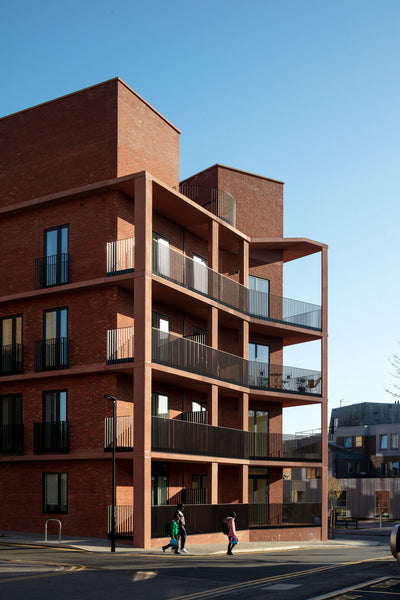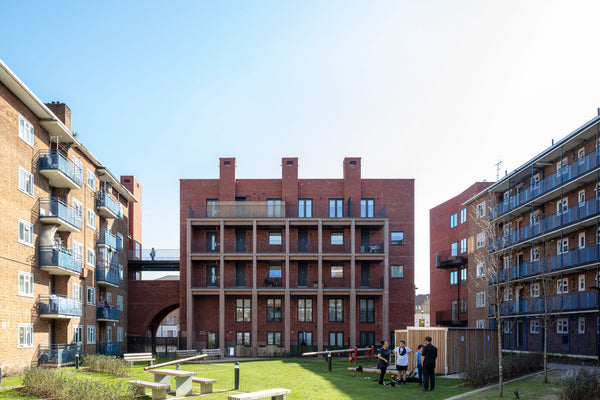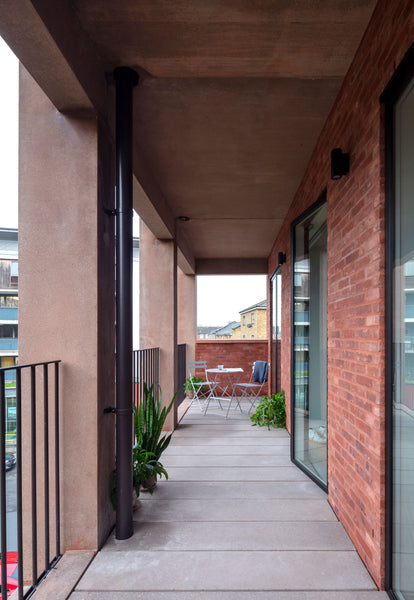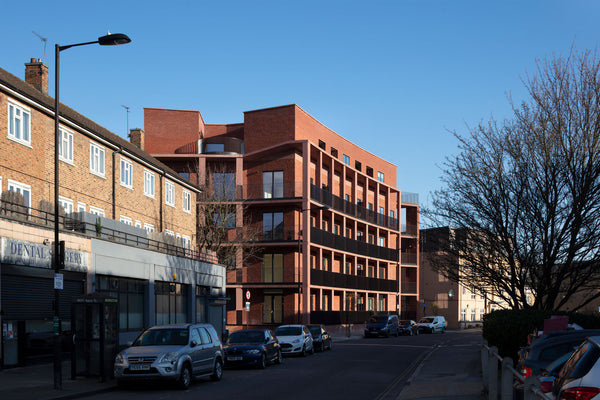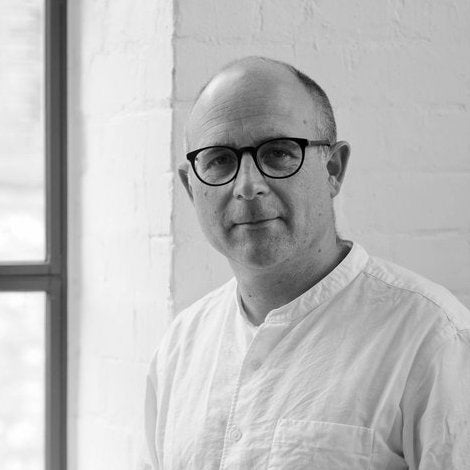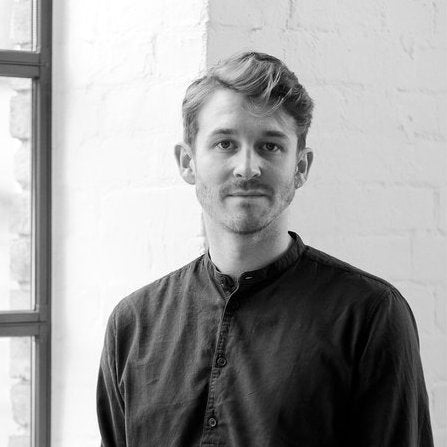 Building Tour: Frampton Park Estate by Henley Halebrown (7pm)
Join practice director, Simon Henley, and project architect Jack Hawthorne, for a guided tours of the recently completed residential blocks designed by Henley Halebrown for the post-war Frampton Park Estate.
Taylor Court and Chatto Court, together with Wilmott Court, form a pair of mixed-tenure housing accommodating 45 new homes commissioned by the Hackney Council on two sites at the edge of the post-war Frampton Park Estate. Located some 300m apart along Well Street, Taylor Court and Chatto Court rise from the empty site of the previously demolished Frampton Arms pub, whilst Wilmott Court replaces Lyttelton House, a small building which accommodated six homes that no longer met modern requirements.
Designed by Henley Halebrown, these buildings were jointly commissioned and completed, but remain distinct responses to their different contexts and programmes. Nonetheless, all the buildings explore meaningful ways in which architecture can support a social infrastructure in the city. The grouping and massing of the new housing blocks negotiate between the contrasting urban conditions of the post-war estate and the Victorian street, repairing the urban fabric in a way that extends the public realm. Each building occupies its respective site with generous external public space interwoven along the street and within the estate.
The handmade-brick buildings are separated but the use of a red pigmented flush mortar clearly identifies them as a pair within Hackney. This civic quality is also present in the art historical play in the buildings which finds a distinctly picturesque expression at the former Frampton Arms site with the arched bridge connecting Chatto Court's two apartment blocks. At Wilmott Court, the wedge-shaped footprint of the building reinforces the historic curvature of the street line thereby addressing the urban grain and improving its legibility.
Taylor Court, Chatto Court and Wilmott Court are part of Hackney Council's ambitious programme of new Council housing, which is providing hundreds of new Council homes through an innovative, in-house and not-for-profit approach – with genuinely affordable homes paid for through selling some homes outright in the absence of government funding.
STARTS:
7:00pm, Wednesday 28 July 2021
ENDS:
8:00pm, Wednesday 28 July 2021
MEETING POINT:
Frampton Park Esate, 62 Elsdale St, London E9 6QX
TOUR GUIDES:
Please note that there are 30 tickets available, and the tour will be split into groups of 15, with Simon and Jack leading separate groups.
Simon Henley 
Simon founded Henley Halebrown in 1995 with an ambition to place social value at the heart of architectural practice, paying particular attention to the way people experience buildings, and how architecture affects our sense of well-being. He believes that a good building, be it your home, where you work, a school or a health centre, helps support the community it serves. Working sometimes with existing buildings he has developed a respect for history. This translates into the way the practice plans, makes and details buildings to be robust and sustainable. Simon combines practice with teaching, writing and research, and is the author of The Architecture of Parking (2007) and Redefining Brutalism (2017). He teaches on the MArch programme at Kingston University. He is an External Examiner at the University of Moratuwa, Sri Lanka and a Fellow of the Royal Society of Arts. Simon is a member of the London Legacy Development Corporation Quality Review Panel, a panel member of Design South East, and a consultant to the Mayor of London's Regeneration Special Assistance Team.
Jack Hawthorne 
Jack is an associate at Henley Halebrown. Since joining the practice in 2015, Jack has led a number of projects from concept design through to delivery. Most recently he has led the Frampton Park Estate project, a pair of mixed tenure schemes providing 45 homes for the London borough of Hackney, and was the project architect on Bellside House, which involves the refurbishment and transformation of a historic warehouse in North London into contemporary workspace - an experience that has fostered his enthusiasm for working with existing buildings. Jack previously worked at David Chipperfield Architects, where he contributed to the office's proposal for the Metropolitan Museum of Art in New York, and in Zürich. He has worked across a range of sectors and cultures, from high quality residential, commercial and educational buildings in Switzerland and the UK, to large scale buildings for arts and culture in the US. A passionate academic, Jack is a design studio tutor at the University of Kingston. He is actively involved in wider discussions within the discipline and organises Henley Halebrown's Dialogues talks series.