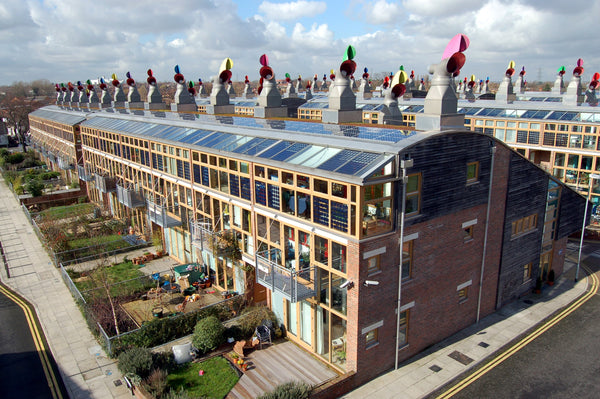 Building Tour: BedZED with Bill Dunster
Take a tour with ZEDfactory principal Bill Dunster revisiting the studio's acclaimed BedZED eco-development in Hackbridge, south west London. Join Dunster and Maria Smith of Webb Yates Engineers for a walk around the pioneering BedZED urban village, discussing the legacy of the Stirling Prize-shortlisted development almost two decades after its completion.
The Beddington Zero Energy Development – BedZED for short – is an 82-unit mixed-use project designed around achieving ambitious reductions of energy, water and car use.
Constructed in the Wallington suburb of London, the 1.4 hectare scheme for the Peabody Trust features a mix of social rent, shared ownership and market sale private housing along with community facilities and commercial units. The project was constructed from locally sourced materials and features its own on-site water treatment plant and woodchip fuelled combined heat and power plant.
The tour will discuss the history of the project, its impact on housebuilding at the start of the new Millennium and the insights it offers to contemporary architects designing sustainable housing amid the climate emergency.
STARTS:
11:00am, Saturday, 22 February 2020
UNTIL:
12:30pm, Saturday, 22 February 2020
VENUE
Helios Road, SM6 7BZ
TOUR GUIDES:
Bill Dunster
Prior to setting up ZEDfactory in 1999, Bill Dunster worked at Michael Hopkins and Partners, for 15 years, on projects specialising in low energy and sustainable developments, including the Jubilee Campus at Nottingham University, and Portcullis House in Parliament Square. Zedfactory aims to demonstrate that a step change reduction in carbon footprint is achievable at the same time as an increase in overall quality of life, and completed the first carbon neutral mixed used scheme, BedZED in 2002 using these principals.
ZEDfactory has experience working on both a range of architectural projects varying in size from large scale masterplanning to small residential refurbishments and works in China and Brazil, as well as the UK. This particular emphasis on the holistic integration of zero carbon thinking into the place-making and transportation agenda called 'ZEDlife' has recently been fed into the Zero Bills Home demonstration house at the BRE.
Maria Smith
Maria Smith is an architect and engineer and Director at Webb Yates Engineers where she leads a transdisciplinary team specialising in reducing the carbon emissions associated with the built environment. She was curator of the 2019 Oslo Architecture Triennale; a nationally elected RIBA Councillor; a member of the Architects Declare Steering Group; co-founder of Turncoats; and a Design Advocate for the Mayor of London.