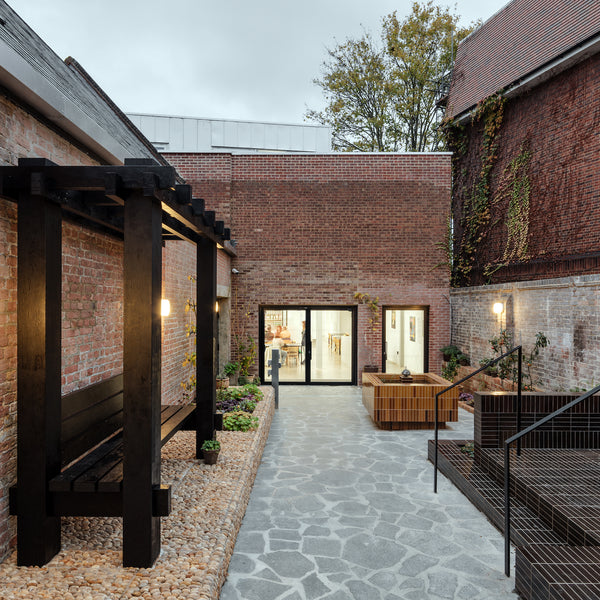 Studio Voltaire Tour with Matheson Whiteley
Studio Voltaire in Clapham is a complex of artists' studios and an associated gallery that presents an internationally recognised programme of contemporary art.  In 2018, Matheson Whiteley won a competition run by the Architecture Foundation to expand and enhance the existing facilities and provide the institution with new public reception areas.  The project, which opened to the public in September 2021 features a new garden at its entrance designed by the Turner Prize-shortlisted artist Anthea Hamilton.
STARTS:
11am, Saturday 5th February 2022
ENDS:
12am, Saturday 5th February 2022
MEETING POINT:
1A Nelsons Row, London SW4 7JR
TOUR GUIDE:
Jason Whiteley, Matheson Whiteley
MATHESON WHITELEY is a London based architectural studio established by Donald Matheson and Jason Whiteley in 2012, following experience with leading architects Herzog & de Meuron (Switzerland) and Tony Fretton Architects (UK).
Completed projects include art galleries for Hollybush Gardens and Stuart Shave/Modern Art, a group of studios for the artists David Noonan, Michael Raedecker and Goshka Macuga, a showroom for the fashion house Alexander McQueen and new public spaces for the Kunstlerhaus Stuttgart.
Current projects in design or construction include a new single-family house in London, 9 Cork Street for Frieze and the redevelopment of Studio Voltaire.
The work of the practice has been included in the 2014 Wallpaper Architecture Directory and nominated in the 2015 RIBA Awards, the 2016 BD Architect of the Year Awards and won the 2018 AJ Small Projects Award.
---